Occipital Neuralgia (ON) is not technically a cranial nerve pain condition. Rather, it is a spinal nerve pain condition. It is included here because it is a common condition among facial pain patients.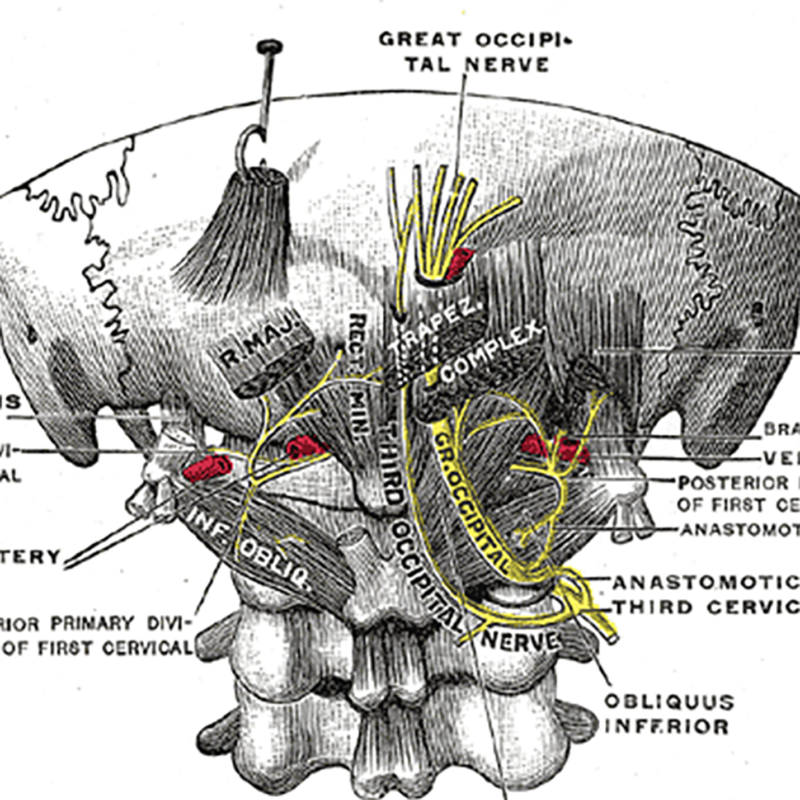 Definition
Occipital Neuralgia is a condition in which the occipital nerves are inflamed or injured. The occipital nerves run from the 2nd and 3rd cervical vertebrae up the posterior scalp (back of the head) to the vertex (top of the head.) The condition causes pain in the back of the head and/or the base of the skull. It is sometimes called cervicogenic headache.
It is sometimes confused with migraine headaches because the symptoms can be similar. Like the cranial neuralgias, it is most commonly felt on one side of the head or the other, but it is possible to have bilateral occipital neuralgia.
Symptoms
The pain of ON is often described as shooting, zapping, electric, or tingling pain very similar to that of Trigeminal Neuralgia, only with symptoms located on one side of the scalp rather than in the face. Other symptoms include:
Pain behind the eye
Sensitivity to light
Neck pain
Scalp sensitivity
Causes
ON is the result of pressure on or trauma to the occipital nerve. This can occur due to injury, muscular entrapment, or inflammation. It is a potential complication of MVD surgery, because the area through which the surgeon accesses the cranial nerves is very close to the path of the lesser occipital nerves.
Other possible causes include, but are not limited to:
Trauma to the back of the head
Muscle tension
Arthritis
Tumors
Cervical disc disease
Infection
---
Pronunciation of Occipital Neuralgia:
---
Further exploration
JOURNAL ARTICLES
Choi, Il, and Sang Ryong Jeon. "Neuralgias of the Head: Occipital Neuralgia." Journal of Korean Medical Science 31.4 (2016): 479–488.
https://www.ncbi.nlm.nih.gov/pmc/articles/PMC4810328/
Al-Quliti, Khalid W. "Update on Neuropathic Pain Treatment for Trigeminal Neuralgia: The Pharmacological and Surgical Options." Neurosciences 20.2 (2015): 107–114.
https://www.ncbi.nlm.nih.gov/pmc/articles/PMC4727618/
Riederer, Franz et al. "Familial Occipital and Nervus Intermedius Neuralgia in a Swiss Family." The Journal of Headache and Pain 11.4 (2010): 335–338.
https://www.ncbi.nlm.nih.gov/pmc/articles/PMC3476342/
REviewed 06/21