ATIP is a collaboration of pain patient advocates and activists calling for the immediate withdrawal of the guidelines published by US Centers for Disease Control and Prevention regarding prescription of opiates to adult non-cancer, chronic pain patients. The grounds for this challenge include exceptionally poor science, professional bias, and known harms to patients and doctors in the arbitrary withdrawal of care.
In full support of their mission, the Facial Pain Advocacy Alliance is proud to be temporarily hosting this important effort in the fight for pain patients' rights.
To page through the document below, click on the arrows at bottom left. To change display font size, click on zoom buttons.
Stanford Letter to the Oregon Chronic Pain Task Force
The Alliance for the Treatment of Intractable Pain recently contributed to writing and research presented to Kate Brown, Governor of Oregon, by several present and past presidents of the American Academy of Pain Management. The letter was signed out from Stanford University, opposing proposals to forcibly taper Oregon Medicare patients to zero, and demonstrating that there is no basis in medical evidence for mandating forced tapers for any patient who is otherwise stable and well served by existing therapy.
Stanford-Letter-to-Oregon-Chronic-Pain-Task-Force

More Documents of interest:
---
Petition to Suspend Centers for Medicare and Medicaid "Safety Edits" by Insurance Providers – Call for Endorsements
For your consideration and possible endorsement: a petition to the Department of Health and Human Services, Centers for Medicare and Medicaid Services (with a wide CC distribution list). The purpose of the petition is to demand suspension of elements in Medicare Part D rules changes for January 1, 2019 (final call letter issued April 2017).
As written, the CMS final call letter authorizes insurance providers to require pharmacists to conduct a safety review with any physician whose prescription increases the patient's total daily dose of opioid analgesics above 90 morphine milligram equivalent daily dose (MMEDD). Insurance providers will also be authorized to impose "hard edits" — denying Medicare reimbursement for prescription initiation or renewal, subject to an appeal process by the doctor, in which the insurance provider is the final authority — for any prescription plan that exceeds 200 MMEDD.
Potentially 1.6 million Medicare recipients will be affected by these restrictions, with a similar number in private insurance. The rule change further "weaponizes" the 2016 CDC Guidelines, in an apparent effort to generally suppress the availability of prescription opioid pain relievers. The guidelines are already directly responsible for wide spread departures of doctors from pain management practice, doctor desertions of patients, and patient suicides due to overwhelming untreated pain. The CMS initiative will magnify that sorry trend.
Agenda for Development of Pain Management Best Practices V1.1
---
New at the Alliance
The US Drug Enforcement Agency proposed in April 2018 to change its own charter to permit the Agency to scale back production of opioid pain reliever drugs, if they find reason to believe these essential medications are "diverted." DEA offers no explanation for how they proposed to determine diversion. And they shortened the usual public review period to a mere two weeks. One must suspect that they're trying to pull a fast one on the American public — an enormously destructive "fast one" that has potential to harm both chronic and acute pain patients.
Richard A "Red" Lawhern and John Allen Tucker, PhD have recently completed a major analysis of 18 years of State-By-State data recorded by the US Centers for Disease Control and Prevention and by the Agency for Healthcare Quality Research. These data concern opioid prescribing rates, overdose-related deaths, and hospital emergency room visits for opioid-related problems. What this analysis reveals is startling:
Historically, there is a weak association between higher prescribing rates and more reported overdose deaths, by US State. But for 2016, there is no relationship at all. Illegal drugs have so completely flooded street markets that deaths due to prescription drugs (either actually prescribed or diverted by theft or being given to a relative or friend) are insignificant. Patient deaths due to prescriptions get lost in the noise.
Although opioid analgesic prescribing has dropped steadily since 2010, CDC is reporting increasing deaths related to drug overdose, and increasing numbers of hospital emergency room admissions. Restriction of production for medically managed opioid analgesics clearly hasn't worked. We have no reason to believe it will work in the future. DEA proposed restrictions on medical opioid production cannot POSSIBLY help "solve" an opioid crisis that was never caused by prescriptions in the first place. But such measures have every potential for destroying the lives of millions of chronic and acute pain patients who are being denied effective treatment for their pain.
Read the summary report of the analysis and a full listing of the data which back it.
Analysis of CDC Wonder Rx and ER Data 1.3.ppt

The authors welcome and invite qualified data analysts to examine the evidence and share their conclusions by email to [email protected] and [email protected]
---
Join ATIP!


Visitors seeking to join the Alliance for the Treatment of Intractable Pain will be interested in our Facebook page at facebook.com/ATIPUSA/.
---
Make a commitment
An Invitation: We Want a Few Good Men and Women to Commit Themselves
---
Let Lawmakers hear from you
In order to be heard over the din of opioid misinformation and falsehoods, ATIP needs you! Below you will find tools and tips for making yourself heard in the Fight for Pain Patients' Rights
How to Take Effective Action in the Fight for Patients' Rights
Look up the phone numbers and locations of the nearest local offices of your Senators and Congressional Representatives.
To use the finder below, select "Members" in the drop down and type your state in the text box. For example:
Arm yourself with current and accurate information our library of Red's writings on the topic of opioid policy and pain patients' rights. (see below)
Download the following document for your use in lobbying your Congressional representatives.
---
Let us hear from you, too!
Have You Been Affected Adversely by the CDC Opioid Prescribing Guidelines? You can help!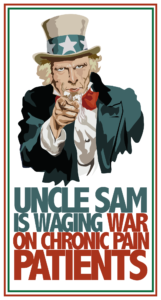 We need reports of denial of treatment leading to diminished quality of life and/or suicide among our communities. Even if you don't have a name, please provide gender, city, state, age, date of the suicide – whatever demographic information you have.
We also need testimonials concerning what tapering/stopped medications has done to your health and well being. Please include your diagnosis, how loved ones are affected, if you have had to leave your job, file for disability, etc. Tell us if you or a (healthy) loved one has been denied adequate pain relief during or after a surgery/injury, or are canceling/postponing surgery because of the new pain laws.
We also need the names of any doctors who have had to leave or retire from medicine due to the government's opioid prescribing guidelines, and whether your doctor has received threatening letters from authorities regarding opioid prescribing.
We will keep your identities confidential if you request. But your testimony may have far more impact if you are willing to put your name on it and have it published.
Please email: [email protected]