Today is the FIFTH Annual International Trigeminal Neuralgia Awareness Day!
---
The first Trigeminal Neuralgia Awareness Day happened in 2013, christened by Toni Saunders of TNnME. On this day, we work to raise the profile of TN in our social media circles. Many people fundraise for facial pain causes by designing and selling graphic tshirts and other printed merchandise. Some people sell their crafts. Others partner with businesses such as LulaRoe, Younique, and Pampered Chef. A few host annual events to raise money and awareness, like Laugh Your Face Off, the Race to Save Face, and Face the Change. Everyone participates in their own way to make October 7th memorable every year, and this year is no exception.
Give yourselves a hand, Warriors! We didn't sit around waiting for some organization to raise awareness for us. We did it ourselves!
---
Video Awareness Tools
There's nothing quite like a short YouTube video to help spread knowledge of a condition. Feel free to use this one to educate your friends and family. YouTube videos can be shared online, in emails, and in text messages.
---
Season Changes: What Is Your Experience?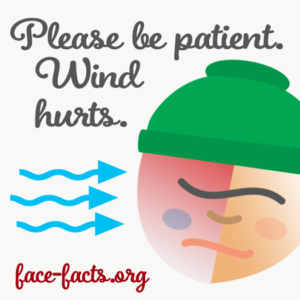 Even for those whose pain is under relatively good control, season changes seem to bring on additional pain. Nowhere is this phenomenon more evident than in support groups on Facebook. Many people report that the transition from warm weather to cold is the hardest part of their year.
How do season changes affect you? Do you have any special tricks or tips to offer? Feel free to comment below.
---
misdiagnosis: the age factor
Studies have shown that TN is more common among people over the age of 50. Sadly, the fact that the condition occurs more frequently in the senior population has led to the pervasive and damaging misunderstanding among medical professionals that TN occurs only in the senior population.
One doesn't have to look very far in any FaceBook TN support group to find evidence of this sad phenomenon. In one group, a 30-something patient laments that her doctor has proclaimed, categorically, that she can't possibly have TN because she is too young. In another group, a 20-something patient comments on a post that his doctor has told him he must have TMJ because TN by itself doesn't happen to "people his age." I've seen hundreds of these posts and comments over the years, and the problem does not appear to be getting better with time.
Beyond being simply frustrating, the idea that age can be used as a litmus test for TN has severely damaging implications. When a TN patient is misdiagnosed after a doctor fails to consider TN, that patient is diverted from the path to proper treatment. That diversion may be just a time-wasting delay to diagnosis, or it may be the beginning of a lifelong, repetitious cycle of wrong diagnosis, unsuccessful treatment, and poorly managed pain. The results are tragic. Patients are abandoned by doctors who can't figure out why they aren't responding to a solution "that should work." They are led to treatment after treatment for the wrong condition, often wreaking further havoc in an already chaotic situation. They are referred for psychiatric care. They are treated like pill seekers when they continue to search for a remedy to their unrelenting (and untreated) pain. The prognosis is bleak for a misdiagnosed TN patient.
Younger adults face daunting obstacles to diagnosis, but for the pediatric patient, the obstacles go beyond merely daunting. The vast majority of physicians are not aware that TN occurs in pediatric patients. Is it rare? YES. Does it happen? YES. Just ask these patients.
Video courtesy of the video creator and TN Warrior, Ellie Eichenlaub.
By raising awareness of TN, we can educate our communities with the knowledge that TN can happen to anyone: male, female, old, and young.
---
Julie's Facial Pain Friendly Recipes
As promised, here is the first of Julie's recipes:
Butternut Squash Apple Soup
5 Tbsp butter
1 Onion, chopped (If onions increase your pain, omit the onion)
3 Apples, peeled and chopped
2 Russet potatoes, chopped
Salt and pepper to taste
1 small butternut squash, peeled and chopped
½ cup apple cider
4 cups chicken broth
2 cups cheddar cheese (If cheese increases your pain you can substitute with 2 cups of chicken)
½ cup sliced or chopped prosciutto for garnish. Omit when chewing is painful.
Melt butter in large saucepan Add onions, apples, potatoes, and butternut squash. Sauté until onions are translucent. Add cider, chicken broth, and enough water to cover the vegetables. Bring to a boil, then reduce heat. Cover and simmer for 20 minutes.
Add cheese. Stir until melted. Remove from heat. Allow to cool to room temperature.
Puree or blend, adding water as needed for the right consistently for you. Divide soup into 1 cup servings in zipper freezer bags. Add a pinch or two of the prosciutto strips. Label the zippered bag with the food type and date. Put in the freezer and use when ready. Thaw the frozen soup by putting the zippered bag in hot water for 5 minutes, then heat in a small pot until hot.
---
Until next time, Warriors!
Go forth today, and share TN awareness everywhere.
Together, we will bring facial pain  out of obscurity and into the light!